| | |
| --- | --- |
| | Speaking Email notifier |
Snapshot of MailAssistant's Check Mail window.
Click here to hear Merlin's voice (audio sample in Real Audio.)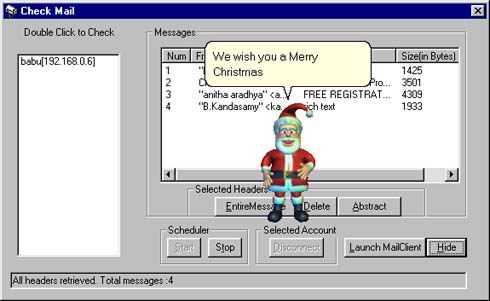 Overview of MailAssistant :-
You can see all your message headers in this screen alongwith the list of pop3 accounts, if you have setup more than one pop3 account. From this screen you can quickly preview the entire message, delete one or more messages from the server, or see the abstract of a particular message.
Apart from reading out the email messages, cartoon character in MailAssistant can also read any text file, either fully or the select text. Click File and Open any text file from your disk.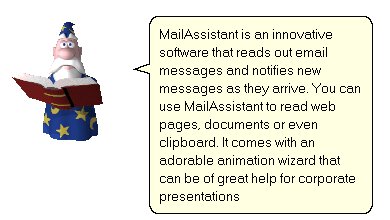 MailAssistant can also read any text contents in the clipboard. Right click the tray icon and select "Read ClipBoard" or just press the hot key (Pause key). So any text can be read out from any application.
You can add, view/modify or delete email accounts, set the path to your favourite email client and set/change the cartoon character files, specify the number of lines of the message that should be retrieved or read out, specify the time interval for checking emails, increase/decrease the pitch that affects the nature of voice of the cartoon character.
delivery option available. Click here to get the CD now.
CD-ROM
Email : mailassistant@pppindia.com