Easy Contacts Delete for Gmail™ - Delete all Contacts and Groups in one-click
Delete all Contacts in your Gmail account at once.
Delete all Group names at once.
Option to choose a single group to delete the contacts under that group.
FREEWARE - New version 2.0
Download Easy Contacts Delete for Gmail v2.0 (Installer - 350 KB)
Download Portable version (.zip - 310 KB) Just download and Extract. This version is recommended for users who do not have admin access.
Screenshot: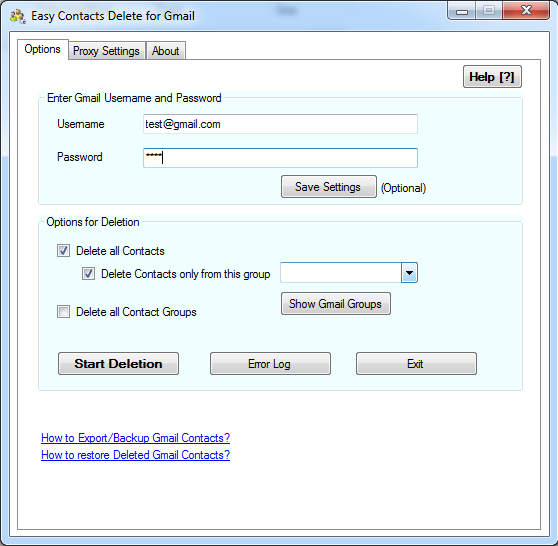 Email support@pppindia.com for any issues or to recommend any new options. Contacts Sync - Synchronize Outlook Contacts with Gmail - Freeware and Pro version. 2way contacts sync, sync Outlook Categories, pictures, notes, sync by last changed contact, preview sync and more.
Back to Contacts Sync webpage.
See more useful tools for Outlook/Gmail users:
Contacts Sync - Sync Outlook Contacts to your Phone through Gmail
Calendar Sync for Outlook and Google. Sync Outlook Calendar with Google Calendar. 1-way, 2-way Google and Outlook Calendar Sync. Freeware. Visit Calendar Sync page for feature list, screenshot and download. Option to sync only upcoming Outlook appointments / Google Calendar events, choose a date range to sync - From dd/mm/yy To All or To dd/mm/yy
Email Extractor for Gmail - Extract Email address from Gmail - Extract and Download unique Email addresses from your Gmail inbox and labels. Extract emails in From/To/CC headers. Download extracted emails as .csv file. Extract From/To/CC/Reply-to, all at once. Extract from unread /new mails. Extract from message body and Sent Mails.
New Android Apps to extract all email addresses from your Gmail, Yahoo, Outlook.com, iCloud, Office 365 mailbox and from any IMAP email account. Available from Google Play.
Visit www.allemailextractor.com to know more.