netMailshar is a cost - effective email solution for your home or office network. It brings Email capability to every workstation/user in your network with just one Internet account.
netMailshar supports any type of Internet connection - Dialup, ISDN, ADSL, Cable modem, or Ethernet connection. Every user in a network can send and receive emails offline. Thus netMailshar saves you money by removing the need for getting a separate Internet account, phoneline and modem for each user who wants to access email in your network.
netMailshar turns email aliases into virtual POP3 boxes within the network. It routes mail to the same email domain locally, without the need to access your ISP. Supports advanced dialer and scheduler to send and receive emails periodically and on specified days and/or hours.
netMailshar is easy to install, configure and use. netMailshar is the smallest mail server - just 233 KB. It has all the features to fulfill the messaging needs of a small business or an enterprise.
netMailshar picks up all of the mail for the entire network, quickly, easily, and efficiently.
netMailshar is available in 5, 10, 25, 50, 100 and unlimited user versions.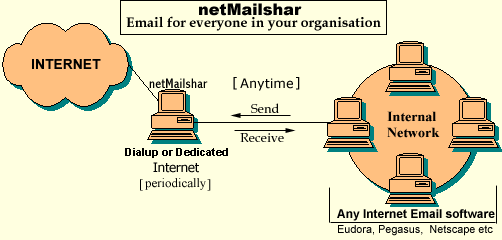 What's New in version 2.7 ?
Rules Manager - netMailshar has a powerful content scanning engine to check your incoming emails for spam, viruses and keywords or phrases or attachments. new in 2.7
Supports two modes for sending mails

Sending Method 1 - using SMTP relay server (most common method - default option - recommended)
Sending Method 2 - using MX lookup. This method makes a "direct connection" to the mail recipient's server for quicker delivery. This option is useful if you are on a dedicated/"always on" connection to the Internet and/or when your ISP does not provide you a SMTP server for sending mails. This option is not recommeded if you are on a normal dialup connection, as the mail delivery process will be very slow.
Communicate, Network, Inform - Use netMailshar.